This week I hosted a Giveaway/Contest for the readers of Baeldung. I gave away 5 copies of my Spring Security Video Course (Packt) – using Gleam (gleam.io).
I really had no idea what to expect going into this – so now, at the end of the event, I'm publishing the full results here for anyone thinking of running a similar campaign.
1. The Giveaway
Let's start with the Giveaway Page – as you can see, the entire Giveaway content is set up in Gleam and only embedded on this page: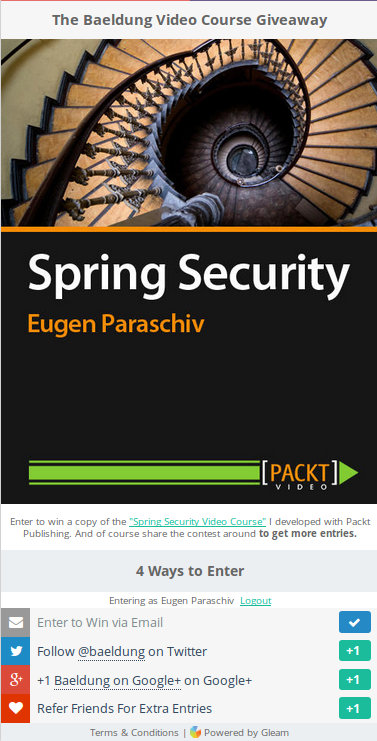 The main way to enter the giveaway is of course email – that counts as 1 entry. I have set up 3 alternative ways to increase your chances of winning:
Follow Baeldung on Twitter (@baeldung)
+1 the Baeldung page on Google Plus (G+ page)
Refer Friends (via Twitter, G+, etc)
So – pretty straightforward all in all – took me about an hour to set up and off it went.
2. How I Promoted the Giveaway
Promotion of the Giveaway is of course the most important thing. Here's what I did:
I emailed my list (~10.000 subscribers)
I tweeted the giveaway page out (~2500 followers)
I posted on G+ (in the Java community)
I posted on Facebook
3. The Numbers
Here's what the final Gleam stats show:
2315 impressions
1195 actions (~52% conversion rate)
750 users (~32% conversion rate)
And here's the breakdown of the actual results that came out of the campaign:
239 – Google+ Followers
179 – Twitter Followers
258 – Email Subscribers
Finally – here's the full traffic, actions and users – graphed for the entire duration of the event:

4. What You Can Do Better
First off – Gleam is a nice system for running a Giveaway; it's not free, but it is reasonably priced at 39$.
Now that the event has finished, the one thing I would recommend if you're aiming to go beyond the results I had here is to up the ante with the giveaway. Basically – give away something more valuable to your audience. The Spring Security Video Course is (usually) priced at 30$, so the value of a copy isn't huge. Going with a higher ticket item – but still relevant to your audience – will increase the engagement and the virality of the campaign.
For my next event, that's what I'm planning to do – pick something that is both highly relevant for my readers, but also just higher value overall.
5. Conclusion
Hopefully that gives you some insight into what kinds of results you can expect out of a Giveaway/Contest like this. The numbers aren't huge, but they're definitely not negligible either.