Internally, this was the most eventful quarter in the history of the site. Externally, some solid growth, some exciting new products and finally stable revenue.
Last quarter the team content team was at 3 technical editors and about 20 or so authors. The numbers are now much higher – 6 technical editors about about 60 authors. Crazy, I know.
But let's start with traffic.
Q2 Traffic Numbers
Let's start with the overall traffic: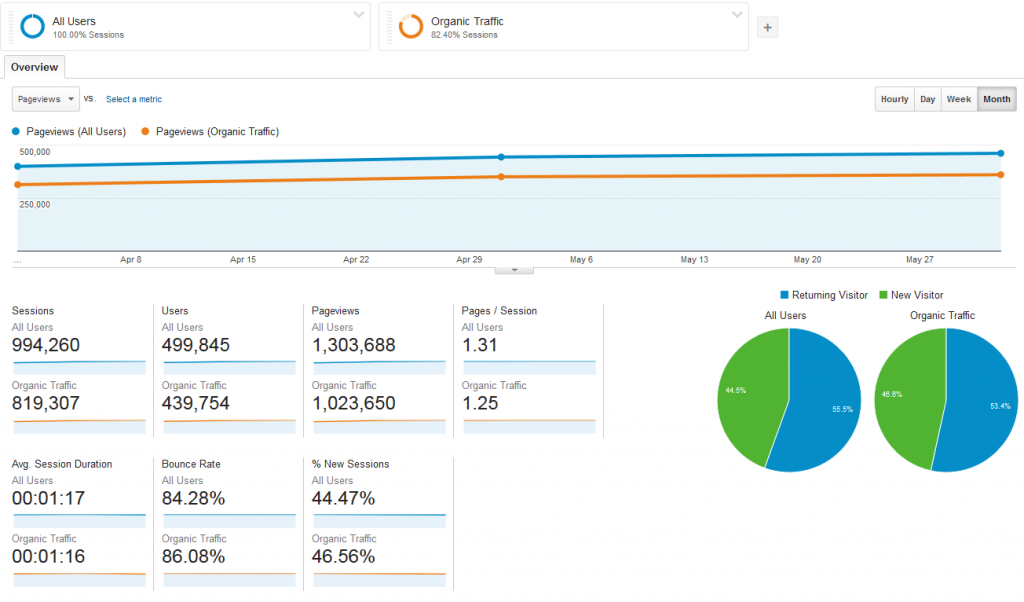 The Q2 number represent a solid 33% increase over Q1.
On to the referrer traffic: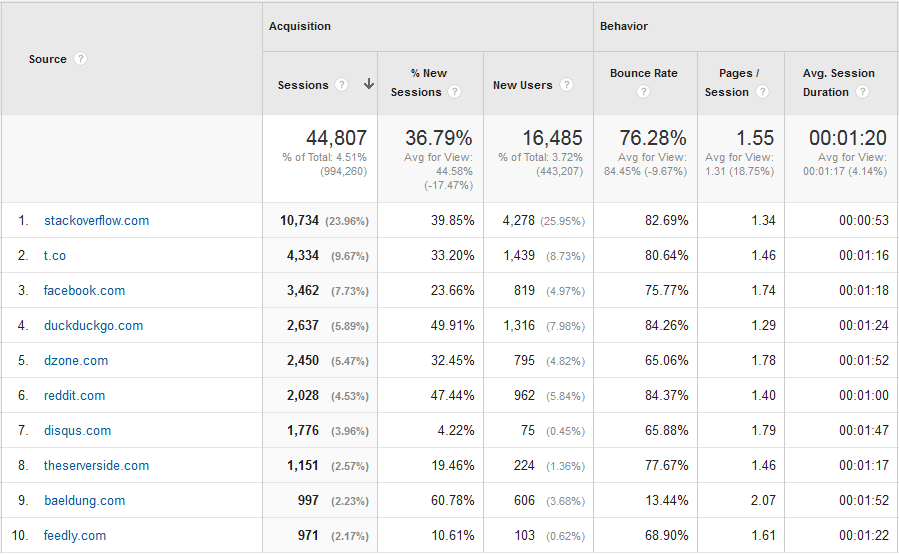 Referrer traffic is super stable – some interesting trends here but nothing to write home about.
Other Goings On
I focused on two things this quarter – the course and the team.
The courses has jumped over 1100 students and are somewhat stable and predictable – which is great, as I don't like relying on launches and events for revenue.
And after 3 months of non-stop writing of procedures and internal video training, the team is 90% onboarded and humming along nicely. The second full time hire definitely made a difference there.
Next, I focused on growing the content team almost 3 times, quickly found out that we're hitting the limits of what we can do over email and got JIRA. Yes, JIRA is typically used to manage software projects, but it turns out that it's perfect for managing a large content team as well. The license is super expensive, but well worth it.
Finally, the new design has gone live. This is literally the first custom design of the site in over 4 years and having a proper QA and deployment process for the site is great. It means we can actually move quickly, iterate and put things into the hands of readers.
The new design also showed me – for the first time – that my 1% visitor to email subscriber conversion rate can become 4-5% with a good design. That increase is keeping steady a few months in and has helped Baeldung break the 20K subscribers limit.
The Plan for Q3
The main focus right now is to finish and release Learn Spring Security.
Then, I have a ton of bonus lessons to create, and I can't wait to get to them, as most are really interesting things to write and record about.
Of course with 60 authors, I fully expect that we're going to be hitting a content schedule that we never quite reached before. The focus is on quality and making sure that doesn't slip – and most of the processes are around that aspect. And as long as quality remains high, I'm excited to see us scale up our content efforts significantly.
It was a crazy Q2 and it's definitely going to be a packed Q3, but one focused on stabilization and growth rather than major changes.
Finally, if you're enjoying these reports and get value out of reading about my journey here, definitely drop me a note in the comments.