May has been a unique month in terms of traffic for Baeldung. As you may know, Google unleashed the forth Pinguin update around the 17th of May. To say this had an effect on my search traffic would be an understatement – more accurately, it has more than doubled my traffic – from around 1700 to around 4000 views more day.
After the initial disbelief and triple checking that my GA tracking code was now somehow screwed up – I realized that I will have to move away from my current hosting provider – WPEngine. Let's jump right in.
Overall Traffic
Here's how my traffic looked like in May – stable up until the 17th and then a significant spike:

The total for May was 118K, up from the 87K pageviews of April – here are the stats:

You'll notice a drop in my Pages / Session from 1.42 to 1.32 – this is because my search traffic always was around this area, and now since it dominates my overall traffic, it makes sense to see this drop here as well. Same goes for my Bounce Rate.
Referral Traffic
Let's now look at the May referrers – very much similar to the April referrer traffic: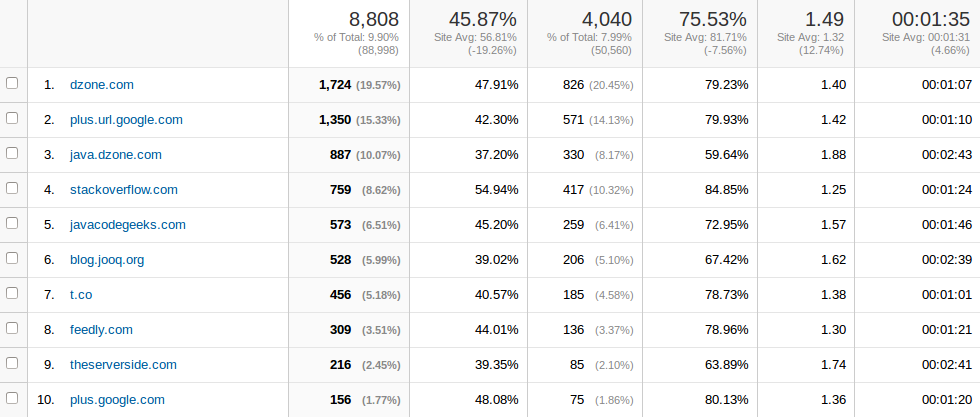 New Subscribers
I added 471 new email subscribers to my list in May – so the overall conversion rate has been lower than usual. I have a few theories as to why that was – which I'm trying to test out and validate:

Infoproducts and Courses Plan

I have finally started to record my first course! One of the 6 product pages has finally reached 100 email subscribers, which was the goal I had in mind to validate the idea and start working on it, and I have been recording for a few days.

If this is going to be anything like my Packt course – it's going to take a while to create a solid course – which is OK considering that I'm still gathering emails for it.

[sc:end-article]

[sc:start-article]