We're already half way through December, so my November report is definitely late. Better late than never – let's take a look at the Baeldung traffic for the month of November.
My Traffic in November
Another slight decrease but nothing major – these <5% fluctuations are natural as we reach the end of the year:


My referrers are quite stable as well – with The Server Side being present this month as well, since I've started re-submitting my content there.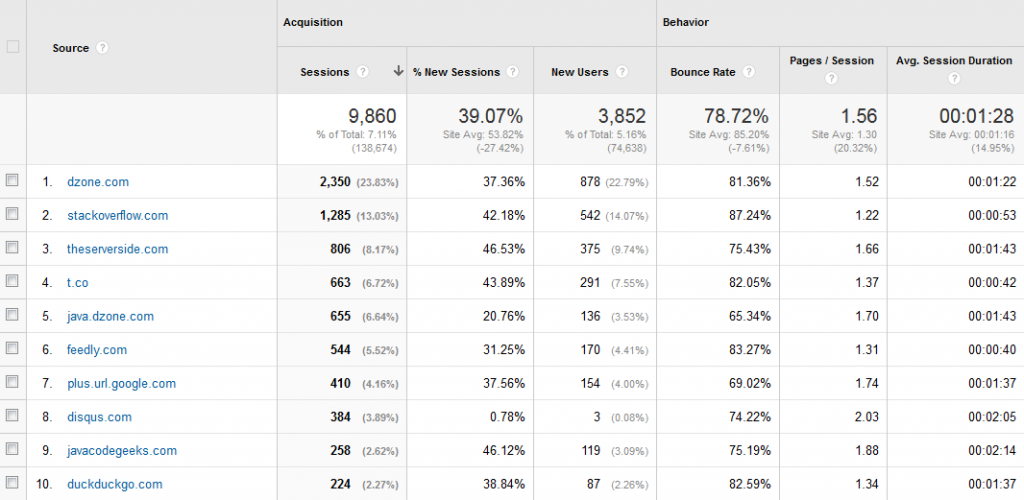 It also appeared that I've started ranking in Duck Duck Go – almost the same as my Bing traffic in November. It's not much, but it's an interesting one to pop up in my Top 10 Referrers.
Email Subscribers
On to the bad news – my email subscribers are down 7% in November, continuing the trend from last month.

Now – I think I narrowed down what the problem is. At the end of a good portion of my articles, I replaced the direct link to github, where the tutorials project is hosted, with a Optin created via Leadpages.
This custom tailored optin allows the reader to optin and download the actual code of the project. Unfortunately, the major downside of using Leadpages for these per-article Optin Magnets is that the reader will receive the magnet (the code) before having to confirm their subscription. This is obviously a big problem in the mechanism, and it looks like it's been the major cause behind my recent conversion problems.
So – in December, I'll be removing these per-article optins and replace them with the standard link to github.