October has rolled around and it's time we dig into Google Analytics and see what the month looked like for Baeldung.
My Traffic in October

Traffic is steady with only a slight decrease across the board:


The referrers that have been sending me traffic are generally unchanged, with one interesting exception – The Server Side.
A few years back, when I was just starting to blog – I saw good results on TSS. All throughout 2013 though, I stopped submitting my content over there – and I have recently picked up and starting submitting again. The results are good – TSS has been my third referrer this month with just a single article showing up on the site for a few days.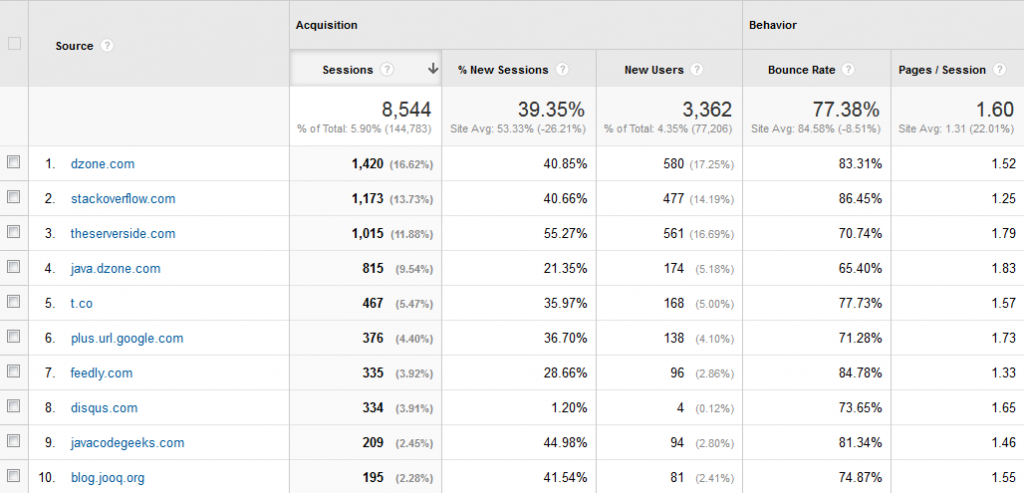 Email Subscribers
October has been a less than stellar month for Email Subscribers. I really had no time to keep up with my A/B tests and experiments, so the existing Optin offers lost their effectiveness over time – as all offers do.
So – a slight decrease to report in October – mainly due to a bit of neglect:

Also – the issue with my unconfirmed email subscribers is still there. I do plan to look into it as soon as I have some time, but for the time being – it's just looking that some readers simply don't like to confirm their email address.
A quick report for a busy month – I'm aiming to change that in November.