It's been a while since my last public report here, so we're going to be looking at Q2 and Q3 together.
Q2 and Q3 Traffic
I had a look at the previous report, where I said the traffic growth in Q1 has been crazy. Looking back, well, it doesn't look as crazy as these last two quarters.
Here's what the new traffic looks like: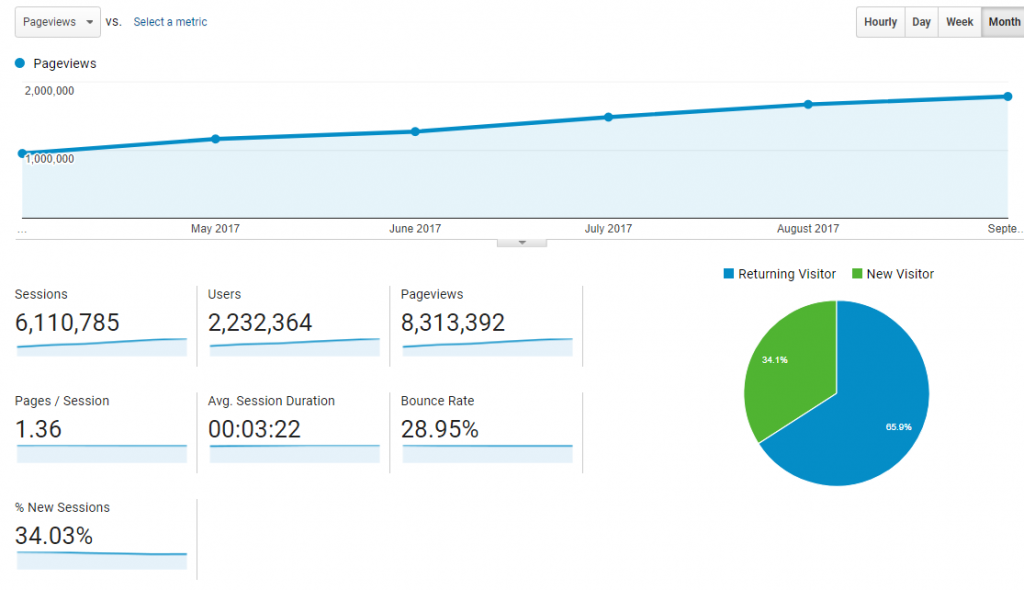 That's 42% growth in Q2 over Q1 and another 45% in Q3 over Q2.
Those are some crazy numbers, and – if you've been following along with the history of the site here, these are not typical numbers. But, to be fair, we've never really had an 80 author + 10 editors content team either, so there's no good reference to compare it to.
Regardless, more traffic means Baeldung is reaching and helping more developers – so that's always good.
Now, you may have noticed the bounce rate and average session duration are also significantly different than the previous values. That's because we changed the Google Analytics code tracking these numbers to be a lot more accurate.
The referrers of the site are somewhat more stable: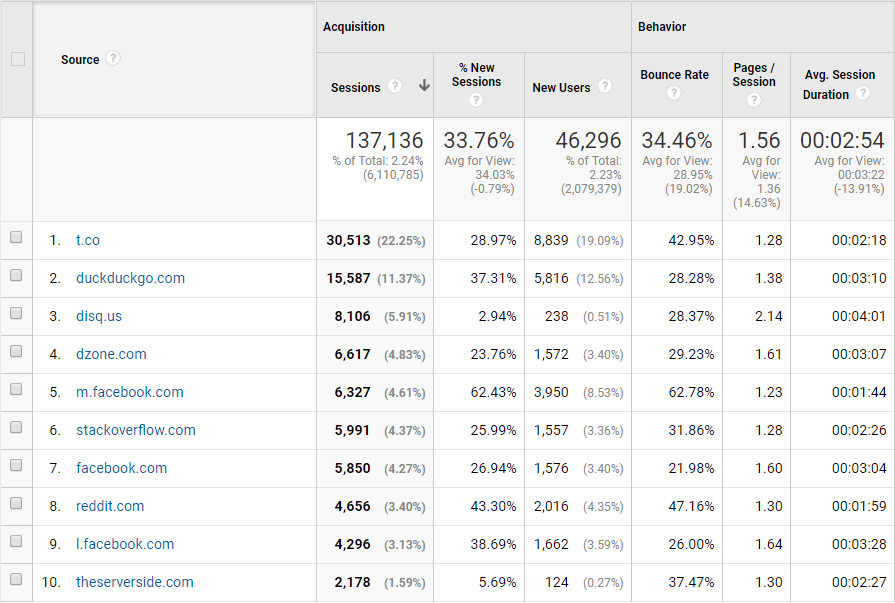 There's clearing been some movement – StackOverflow is down, Twitter is way up, DuckDuckGo is growing – but overall, nothing spectacular.
Q2 and Q3 Content
The content team has been working on a lot of cool writeups these last few months.
Overall, we published 351 new articles on the site (see the full archive here).
At this kind of scale, it turns out it's actually important to learn how to run a large team. Who knew?
Simply put, Q3 and now Q4 are focused making sure our authors are actually happy to work with us. That's easier said than done, but we're definitely a lot better at it now than we were 6 months ago.
Email and Courses
The email list of the site is now at 53K subscribers.
Each time I send an email out, I have to remind myself – I'm not sending an email to thousands of developers. I'm sending an email to one single developer – 53K times.
On to the courses. With all of this crazy traffic, you'd imagine the course sells are double as well. That would be ideal, but that's certainly not the case.
First, both courses are focused on Spring, and the new readers finding Baeldung aren't necessarily interested in Spring. Some are, but a lot are finding our more general, Java articles. That's very cool, but naturally, it doesn't translate into selling courses.
And, second – a lot of the new traffic is existing readers coming back. That's also very cool, but again, not necessarily a direct translation into course sales.
But, even with all of that, the courses are doing quite well – well enough to support the team creating great content for the community.
Plans for Q4 and 2018
The plan at the start of this year was to announce a new course and start working on that.
That plan quickly changed, and I decided not to work on any new course in 2017, and to instead roll out major updates for the existing courses. That's because both Spring 5 and Spring Security 5 are coming out this year (Spring 5 is actually already out). Also because writing, coding, recording, editing and producing a full course takes about 6 months of work.
So, that's the focus right now – working on the updates and adding a lot of cool new material to both existing courses.
And, on the content side, Q4 is going to be all about the team and making that operate smoothly.
Until the next report.
Eugen.