1. The Experiment
I have been thinking of writing a small eBook for quite some time – and my new focus on growing my email list was a great excuse to do just that.
Put two and two together and I wrote the book on Building REST Services with Spring, and am now giving it away to readers that trust me enough to signup to my email list.
Since I don't like hiding the actual numbers and I like scrolling even less – here's the end result: my signups jumped a cool 625% after giving the eBook away.
So let's jump right into it.
2. The Before and After
Here is how my signup form looked like before the eBook: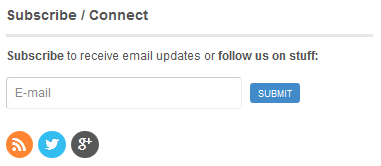 The copy was generic and entirely untested:
Subscribe to receive email updates or follow us on stuff:
And here's the new form after adding the eBook: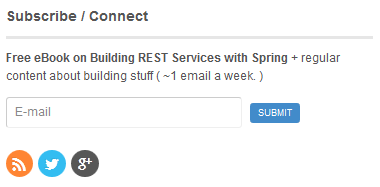 Notice that I am using the exact same widget – the only change is the new copy:
Free eBook on Building REST Services with Spring + regular content about building stuff ( ~1 email a week. )
3. The Results
On to the numbers – first, let's look at the last 30 days before adding the eBook:

This comes out to a grand total of 4 signups to the mailing list – impressive, I know.
After the change, the new signup form with the free eBook was live 28 days. Here are the results:

Over the 28 days the new form, there were 29 signups to my email list – just over one signup per day. That represents the 625% increase in my email signups I mentioned early on – which is nothing short of cool.
4. The Conclusion
This experiment was a good step towards converting more of the casual visitors of my blog into into regular and engaged readers, getting actual value out of the content I put out.
And finally, it's good to finally have hard numbers for this – giving an eBook away does wonders for your email signups.