Q3 has come and gone – here's a quick recap of some of the more exciting stuff for Baeldung (including some early sales numbers of the new course).
Traffic in Q3 2015
Let's start with the traffic numbers:

Again, things have been nice and stable. The metrics of the site are also similar to Q2: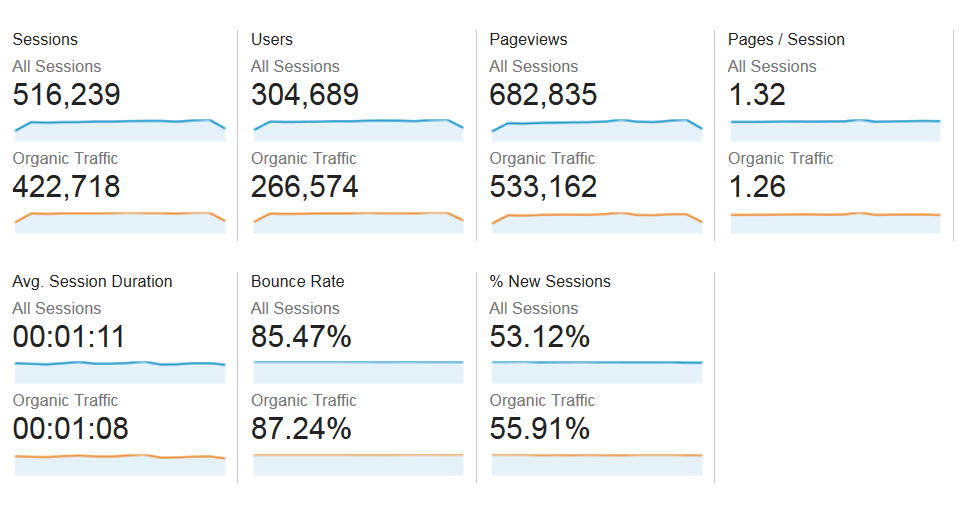 Referrer Traffic for Q3 2015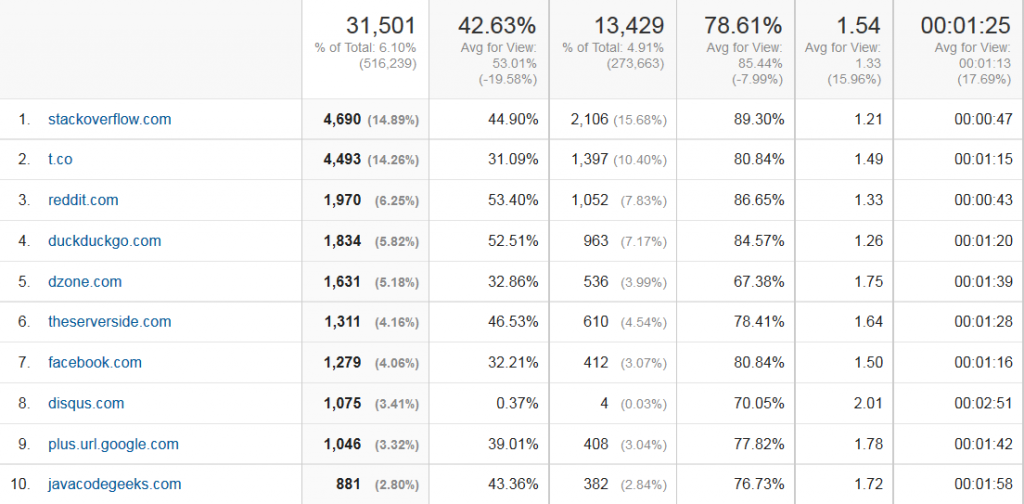 A few interesting changes in my main referrers in Q3.
First – Duck Duck Go jumped from way below all the way to number 4 – which is very cool to see, since we're talking about another search engine.
Second – traffic from DZone is way, way done. That's mainly related to their recent redesign, which unfortunately meant a large drop in quality in the links section of the site. I haven't been posting to much there as a result.
Finally – Facebook made the top 10 – which is cool, but not entirely real. What happened here is that this is actually paid traffic (more on that later) that gets picked up as a standard referrer.
Email Subscribers
Email has been steadily increasing, to about 3500 new subscribers over the last 3 months.
I don't have the exact number this time around, because I finally wrapped up my migration out of Aweber and into Drip – which means that it's hard to pinpoint exactly who signed up when.
As I mentioned last time – besides migrating to Drip, the site has outgrown the old wordpress plugin I was using to collect optins (OptinSkin). The new plugin I've been using is Thrive, and, truth be told – it's absolutely fantastic. OptinSkin wasn't hard to beat, as it barely passes for functional, but Thrive has made a big, big difference in the way I'm doing email.
New Course – REST With Spring
In Q3, I announced my first product under the Baeldung brand – the REST With Spring classes.
I also started pre-selling the course over the last month of Q3, and the reception from the community has been very very positive.
I'm planning write a series covering the creation and marketing of the course, after the release of the Master Class in December, but for now, here are some early numbers.
REST With Spring – Early Numbers
The course has passed 10K in pre-sales a couple of weeks and going strong.
As you already know if you've been reading this blog, I'm very public about my numbers. For example, I shared exactly how much running Baeldung costs (it was about 500$ / month, which has now grown quite a bit).
So, in due time, I'll be public about all the course numbers – for now, I'm not going to go into to much detail, since it's still very early on.
Hired the Technical Content Editor
At the tail end of August, while at Microconf, I posted that I was actively looking for a Tech Editor. I hesitated doing that for a while, but Microconf was definitely a kick in the rear to stop finding excuses and start executing.
So the applications started pouring in, and after a lot of sifting and interviewing, I'm happy to say that I found the new Baeldung Technical Editor. That's exciting.
We've been working together ever since to get him up to speed and working with the Baeldung authors.
Wrapping Up
It's been a packed Q3; Q4 will be all about finishing REST With Spring, talking to my customers and learning. It's definitely going to be fun.