November was definitely an interesting month:
it was the first full month that I had the new Email Signup Form live on the site (and the results are in – see below).
I ran a few page-wide A/B tests (using Optimizely).
I published 3 new cookbooks and re-worked 2 existing articles.
Seeing how the reception of my experiment – to publish my internal development cookbooks – was well received – I continued to work in that general direction and put out a few more of these schematic and cone centric articles.
Let's look at the traffic for the month of November.
Overall Traffic
With the new content, the traffic to the site has held steady and is at the same level as last month:
My stats are largely unchanged – small drop from the new, more seasonal traffic but nothing major: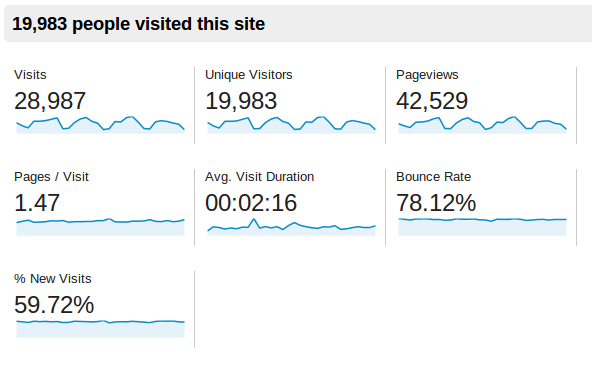 Search Traffic
The organic search traffic on baeldung has also remained stable from the 25% climb last month:

Referral Traffic
Referral traffic is probably the most interesting to look at, analyze and understand, as it paints a great picture of where traffic is coming from and how good that traffic is: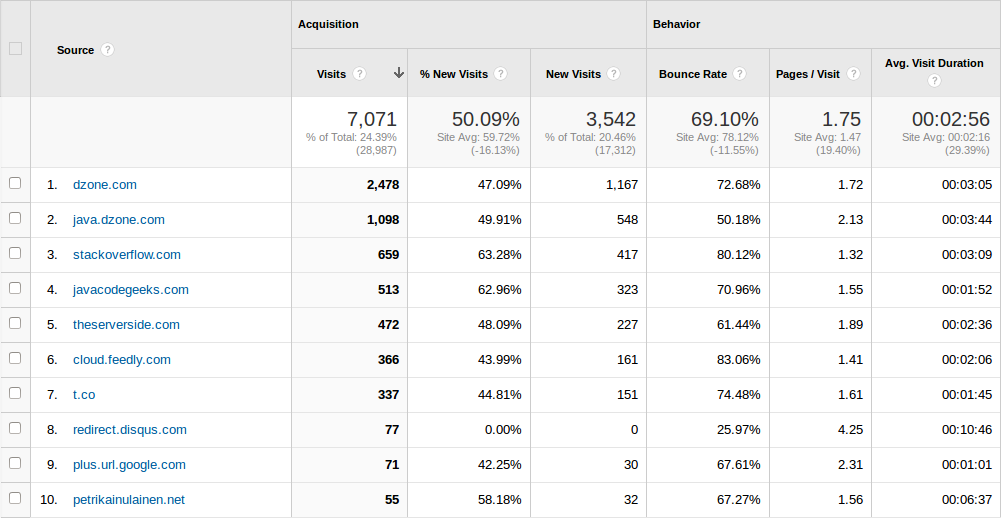 Interestingly enough, both Feedly and Twitter (t.co) have grown  by about 50% this months. Also interesting is that Facebook dropped out of the Top ten, as expected – it was only for the month of October that Facebook had reached the top ten.
Experiment Highlights
If you've been reading this blog lately, you probably noticed that email subscriptions has been a pet peeve of mine and I've been working quite a lot to improve it – and here are the results: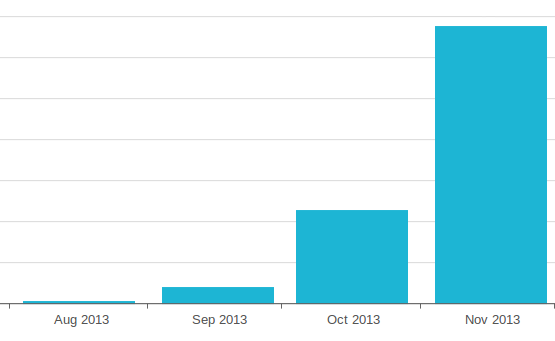 I had 338 new signups for the month of November, compared to the 114 I saw in October – an 197% month over month increase, which I'm excited about.
I got the additional increase if signup conversions by using an new End-of-Article Signup Form to remind readers to get on the email list.
I also ran and am still running multiple micro A/B tests to experiment with different copy for the email subscription Call to Action – these have much less dramatic results – but they add up if you keep at it.
For the chronological list of changes/experiments I ran to make these improvements, you can read:
With all of these changes in place, I expect December to be much more stable in term of signups to the email list – now that some returning readers are already signed up, and new readers are a little less likely to signup up on their first visit.
Takeaways this Month
My first take away for this month is discipline – running and properly tracking multiple A/B tests in parallel, each on it's own independent area of the site – takes a disciplined and organized approach so that the information is easily accessible, but most importantly actionable. If you keep doing it thought, bit by bit the results will add up and start making a difference.
Tools is the other big takeaway – running an A/B test entirely by hand is definitely possible, but I wouldn't recommend it.
I've been relying heavily on the A/B testing functionality from the Optinskin wordpress plugin, as well as Optimizely for page-wide experiments.
Both of these have the A/B test as a first class citizen and make is so much easier to run a test and track results.
Here's for a good December (I should really have some bear around when I write these).
[sc:end-article]